When you're shopping around for your next car, one of the major decisions you need to make is whether to lease or finance it. Both options have their advantages, but which avenue is the right one to take? At Russ Darrow Chrysler Jeep Dodge Ram (CJDR) of West Bend, we're going to show the differences between leasing and financing. You'll see the pros and cons of each option, and you'll be able to decide which one is best for you.
Leasing Your Next Car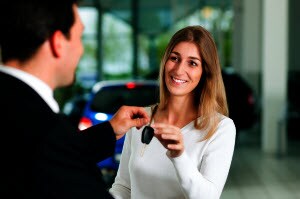 There are many advantages to leasing a car. When you're unsure of whether you want to buy the car, leasing is a great option to consider. Lease periods are generally only three years long, so you can either purchase the vehicle or lease a different model when the lease period ends. Leasing is a great option for indecisive drivers who are unsure of a vehicle they'd want to commit to.
When you lease a vehicle, your monthly payments are much lower than if you'd financed the vehicle. However, you're paying to drive the car, not own it. When it comes to maintenance, the dealership covers your oil changes and multi-point inspections.
Although there are some great benefits to leasing a vehicle, there are some other factors you should be aware of. Mileage is important when leasing your vehicle. You're given a set of miles you can drive, usually 1,000 a month which equals to 12,000 a year. If you go over your mileage, you'll have to pay for each additional mile you drive. Over time, this can add up.
Financing Your Next Car
The major benefit to financing your car is that you're the proud owner. You can drive as far as you want, and you can do whatever you want in terms of adding accessories and parts to your vehicle. When you buy your vehicle, you get a warranty that covers most maintenance for a certain period of time. Over time, automotive issues can become more serious and costly, and your warranties have expiration dates.
Financing a car leads to higher monthly payments, but you're paying to own the car. When you own the car, you can do whatever you want with it. You're not locked into a 3-year period. You can trade it in or sell it whenever you please. You can even use the car as a bargaining chip when it's time to upgrade to a new set of wheels.
Picking the Best Option
The decision to lease or finance your next car is entirely up to you. There are many factors to consider. If you have a lengthy commute, you may want to consider financing. If you have a great deal of monthly expenditures, you may want to lease your next car. The important thing is to assess your situation and, using the information you just learned, make the best judgment.
When you're ready, we at Russ Darrow CJDR of West Bend are here to help you make the best decision toward your next car. Feel free to contact us for more information.
CLICK HERE TO SEE OUR CURRENT LEASING SPECIALS.

WHEN YOU LEASE...
Monthly Payments
Monthly lease payments are usually lower than monthly finance payments because you are paying only for the vehicle's depreciation rather than the full purchase price during the lease term, plus rent charges (like interest). Alternatively, you can lease a more expensive vehicle for the same monthly payment as financing.

WHEN YOU FINANCE...
Monthly Payments
Monthly finance payments are usually higher than monthly lease payments because you are paying for the entire purchase price of the vehicle, plus interest and other finance charges, and taxes. For the same monthly payment as leasing, you must finance a less expensive vehicle.

Vehicle Return
You may return the vehicle at lease end, pay any end-of-lease costs and "walk away."

 Vehicle Return
You have to sell or trade the vehicle when you decide you want a different vehicle.

 Future Value
The lessor has the risk of the future market value of the vehicle. You generally have the opportunity to gain any vehicle equity.

  Future Value
You have the risk of the vehicle's market value when you trade or sell it. You would also have any vehicle equity.

Up Front Costs
Up-front costs of leasing a vehicle are usually less than up-front financing costs. They typically include the first month's payment, a refundable security deposit, registration fees and sometimes local taxes. Up-front costs can include:

    Capitalized cost reduction
    Taxes
    Other government or lessor charges
    Optional insurance and services
    First monthly payment
    Refundable security deposit
    Prior lease balance
    Prior credit balance


Up Front Costs
Up-front costs of buying a vehicle are typically greater than up-front leasing costs. They typically include the cash price or a down payment, sales taxes on the full price of the vehicle, registration fees and other government charges. Up-front costs can include:

    Cash price or down payment
    Sales tax
    Other taxes
    Other government or lender charges
    Optional insurance and services
    First monthly payment
    No refundable security deposit
    Prior lease balance
    Prior credit balance

Total Costs
The total costs of leasing a vehicle for a fixed period are generally less than for financing because of lease savings on depreciation and gap coverage; reduced sales tax; and the time value of money benefits.

    Depreciation
    Gap coverage
    Sales/Use tax
    Time value of money

 Total Costs
The total costs of financing a vehicle for a fixed period are generally more than for leasing because of higher costs of depreciation and gap liability, more sales tax and the time value of money differences.

    Depreciation
    Gap coverage
    Sales tax
    Time value of money