Keeping your car's tires up to date is one of the most important things you can do as a vehicle owner or lessee. Driving on well-maintained tires is crucial for your car's gas mileage, as well as the safety of you and your passengers.
At Russ Darrow Chrysler Jeep Dodge Ram (CJDR) of West Bend, the team at our Mopar Service Center has been changing tires for years. They're here to provide our drivers in West Bend, Jackson, and Slinger the best tire change services available.
Signs Your Vehicle Needs Tire Change Services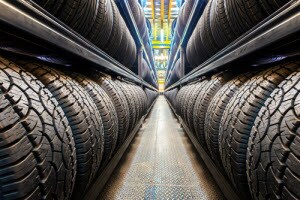 Be on the lookout for the following warning signs that you need to change your tires. If you notice any of them, contact our Mopar Service Center right away.
      
If you find any bulges, gouges, or cracks on your tires. If you drive on tires with any of these, you're putting yourself at risk. It's time to bring your car in to have the professionals look at it.
          
If you notice that the treads are wearing down. There are two ways to test for tread wear. First, the traditional way is to look for the wear indicator bars on your tires: if they're showing, that's a problem. The second way is a classic trick. Jam a penny into your treads, with Lincoln's head facing downwards. If his scalp is visible, your treads are way too low, and it's time to schedule a tire change.
          
Your tire pressure should deflate at approximately one pound per square inch per month. If it's leaking out any faster than this, it's probably time to get some new tires.
          
If you notice an inordinate amount of vibration while you're driving, your tires might be the issue and you'll need to get them serviced right away.
Our Mopar Team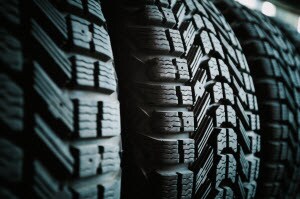 Our service center is staffed by a team of professional automotive technicians who are bona fide experts in tire change services. They're well-versed in working with all types of makes and models, so it doesn't matter if your car is a Chrysler, Jeep, Dodge, or Ram; bring it to our Mopar Service Center for the best tire change available.
Our experts are the most courteous, efficient, and effective technicians in the West Bend, Jackson, and Slinger regions. Not only are they well-trained in changing tires, but they can fix any other problems with your vehicle. Our team will perform any maintenance, repairs, or replacements your car requires.
Schedule an Appointment for Tire Change Services
We hope you learned a great deal about when and how to change your tires from this article. If your tires are exhibiting any of the symptoms described above, schedule an appointment at our Mopar Service Center immediately.
At Russ Darrow CJDR of West Bend, we're here to serve the drivers in West Bend, Jackson, and Slinger. Contact us to schedule your tire change services today.